Writesonic Review: A Comprehensive Look
A writer must be creative, analytical, and have a knack for words to be successful. These are not skills the majority of people are born with. Even professionals need time and practice to hone their writing skills. However, that doesn't mean you can't perform better right now. If you are in that situation right now and need professional writing assistance, we have just the solution for you – Writesonic AI Writer.
Writesonic is well funded, comes with more than 80 powerful writing tools, the option to choose the quality of AI output from economy to premium, an easy-to-use document editor (they call it the "sonic editor"), and much more. Let's look closely at what Writesonic has to offer in this Writesonic review to see if it's worth your time.
Writesonic Specs (Useful Information)
Writesonic Pros and Cons
What is the Writesonic AI writing tool?
WriteSonic is a content platform that uses GPT3 to generate unique, high-quality articles for your business. You can use the software for many different things, like articles and blogs, ads and other marketing-type content, e-commerce like amazon product descriptions, social media posts, website copy like the "about me" page, and more.
It has a user-friendly user interface and Google Docs like Sonic Editor for long articles, making it quick and easy for new users to begin while still containing a wealth of advanced features and tools.
According to Crunchbase, Writesonic's founder raised pre-seed funding of $125K in January 2021 and a whopping $2.5M in September 2021. Writesonic was launched in January 2021. It now has twenty-five employees (as per Linkedin)and many positive user reviews across platforms like G2, Capterra, LinkedIn, etc.,
Who is the Writesonic AI writer for?
The Writesonic AI Writer is a great solution for content writers, small business owners, bloggers, digital marketing managers, and the like. It's easy to use and has a simple interface, so it's great for people who have never used an AI writing assistant before.
Writesonic 3rd Party Reviews
I have compiled 3rd-party reviews from Capterra, G2, Trustpilot, and Getapp.
At the time of this writing, it has the following reviews:
Review Websites and Stars
Summary of Review and Link
Capterra Reviews
★★★★★(4.8)
4.8 out of 5 stars, Reviewed by more than 1500 people. Check Capterra reviews.
G2 Reviews
★★★★★(4.8)
4.8 out of 5 stars, Reviewed by more than 1500 people. Check G2 reviews.
Trustpilot Reviews
★★★★★(4.9)
4.9 out of 5 stars, reviewed by more than 2900 people. Check Trustpilot reviews.
Getapp Reviews
★★★★★(4.8)
4.8 out of 5 stars, reviewed by more than 1600 people. Check Getapp reviews.
Writesonic Review on 3rd party Websites
Writesonic Review – What are the unique features of the Writesonic?
Some of the unique features of Writesonic are:-
Photosonic AI art generator to generate high-quality AI images from a prompt.
The sonic editor is fluid and has options like Paraphrase/Expand/Shorten when you select some text.
Ability to rewrite the entire article from any URL.
A WordPress and Zapier Integration.
Ability to make your own AI feature.
Writesonic Pricing
Writesonic pricing has many options based on the number of words and quality you select. Quality ranges from economy to premium.
Free Trial
The free trial or plan has a word limit of 2.5k per month, but you will have all the features Writesonic has to offer.
Short-form Plan
The short-form plan starts at $15/month for 12k premium words or 120k economy words per month and goes up to $40 per month for 50k premium words or 500k economy words per month. You can save 33% if you choose to pay annually.
Check their pricing, and don't forget to change the quality to check the number of words allowed in each tier.
Long-form Plan
The long-form plan has additional features like an AI article writer and a Sonic editor. Starting at $19/month for 19,000 premium words or 180,000 economy words and going all the way up to $999/month for 2 million premium words or 20 million economy words. If you pay annually, you can save 33 %.
Check out their pricing page and change the quality to see how many words are allowed in each tier.
How to get started with Writesonic?
Just open Chrome or any other browser on your computer to get started. You can come up with content faster with Writesonic by following these steps.
Required Tools:
– A Computer and browser.
Steps to create content with Writesonic: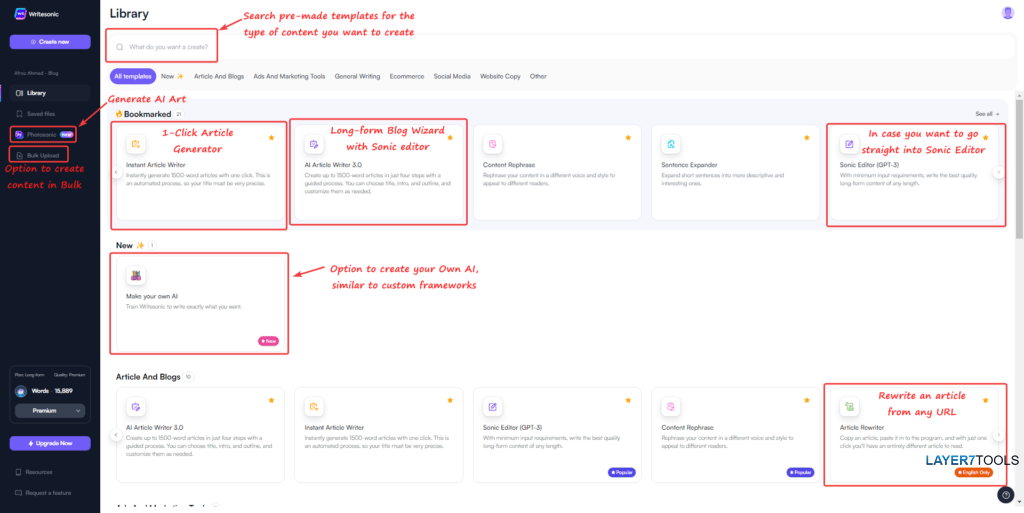 Step 2
Once you are logged in, you will come straight to the library section. Here are a couple of things you need to understand, as shown in the diagram. I have also highlighted all my favorite sections, like Instant Article Generator, AI Article writer, Sonic Editor, Make your own AI, and Rewrite from URL.
What are my favorite tools inside Writesonic?
Writesonic has a lot of useful tools. My favorites are:-
Article rewrite, although if you provide a URL, sometimes it does not produce a relevant result for some sections, it is still handy if you are in a jiffy and want to rewrite a complete article from a URL. It also has the option to rewrite from supplying text as input; IMO, it works better in this mode.
AI Article 3.0, I like this option more than Instant Article writer because it gives me more control over the entire blog creation process by providing step-by-step instructions.
Recent Product Updates
Introduced Chatsonic (Beta), which is built on a similar concept to ChatGPT. It can take voice commands, create images using Stable Diffusion, and has an Integrated google search for up-to-date content.
You can now integrate your Surfer SEO account inside Writesonic to generate SEO-optimized content.
Released AI writer 4.0.
Make your Own AI.
Question and Answer generator, Instagram caption, and a few other new templates.
WordPress Plugin
Check out their latest updates.
Writesonic Alternatives
Some of the Writesonic alternatives are:-
Conclusion
At its current stage, Writesonic is still a new tool, and there are definitely some kinks that need to be worked out of it. Though we have a few missing features with the program at this point (e.g., the SEO tools, no tone of voice, etc.), they likely won't be an issue forever. In fact, these features will likely be released in future updates. Overall, Writesonic AI Writer is a promising, unique tool worth checking out if you're in the market for a different kind of content generation tool.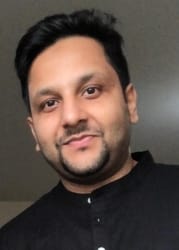 Latest posts by Afroz Ahmad
(see all)