ContentBot Review
ContentBot AI Writer is one of the most powerful AI writing assistants on the market today that allows you to quickly create high-quality first drafts of articles without having to write them manually from scratch. And with manual editing, you can carve out the perfect article faster. It can save time and improve productivity. This contentbot AI writer review will look at how it works, its features, pros and cons, pricing, customer support, etc. So let's get started!
Read on to learn more about ContentBot AI Writer and see if it's the right fit for you and your writing needs.
Contentbot Features (Useful Information)
Content Pros and Cons
What is a Contentbot AI writer?
Contentbot is artificial intelligence (AI) content creation platform powered by GPT3. It comes loaded with short and long forms AI writing tools, an inbuilt plagiarism checker, an SEO tool powered by SEMrush, a separate rephrasing module, and more.
It can help you write on a wide variety of topics, from startup ideas, blog posts, sales emails, ad copy, and product descriptions, to newsletters, video ideas, quora answers, press releases, and so on. It also helps you brainstorm topic ideas for blog content.
It has four core parts.
Write – Where you can find Long-form content writers and Short forms copywriting tools.
Rephrase – Where you can rephrase up to 2000 words in one shot.
Check: For plagiarism, check up to 500 words in one go.
Automate – Where you can schedule content automation for Blog posts and marketing ideas.
Who is the ContentBot AI writer for?
If you're a copywriter, blogger, or content writer who wants to create high-value content and, at the same time, wants to speed up your content creation by using an AI-powered content creation platform.
If you're a content marketer looking to write compelling copy and emails for your product or service, email marketing campaign, website, etc.
Contentbot AI Writer Review: What are the benefits of using Contentbot AI Writer?
Some benefits of using Contentbot include:
It is powered by the GPT3 Davinci model (one of the best and costliest AI models), which can help you create high-quality content, and human-like text faster and more efficiently.
Inbuilt plagiarism checks can save money by avoiding the need to purchase Copysmith or similar plagiarism checker tools.
Greater flexibility and control over the types of content that can be produced, with the mixed-use of inbuilt SEO options, Blueprints, and Shortform templates inside the long form.
Ability to choose between Hemmingway and Carroll AI models in long form.
Ability to change the Temperature, Frequency, and Output numbers of selected AI models in long form.
A WordPress plugin and Chrome extension to speed up your workflow and take ContentBot with you where you go.
Contentbot Review – What are the unique features of the ContentBot AI writer?
Some of the unique features of ContentBot are:-
Blueprints – This is similar to the Shortly AI command feature, where you can use the commands from the library.
Inbuilt SEO functionality (powered by SEMrush) to Discover and Check multiple on-page SEO scores.
You can Rewrite a whole paragraph with just one click, similar to Quillbot, up to 500 words.
Press release generation with all necessary metadata.
Inbuilt Plagiarism checker.
A WordPress plugin and Chrome extension.
You can generate full-fledged ready-to-export landing page content in HTML format by supplying a few details as input.
Contentbot Pricing Structure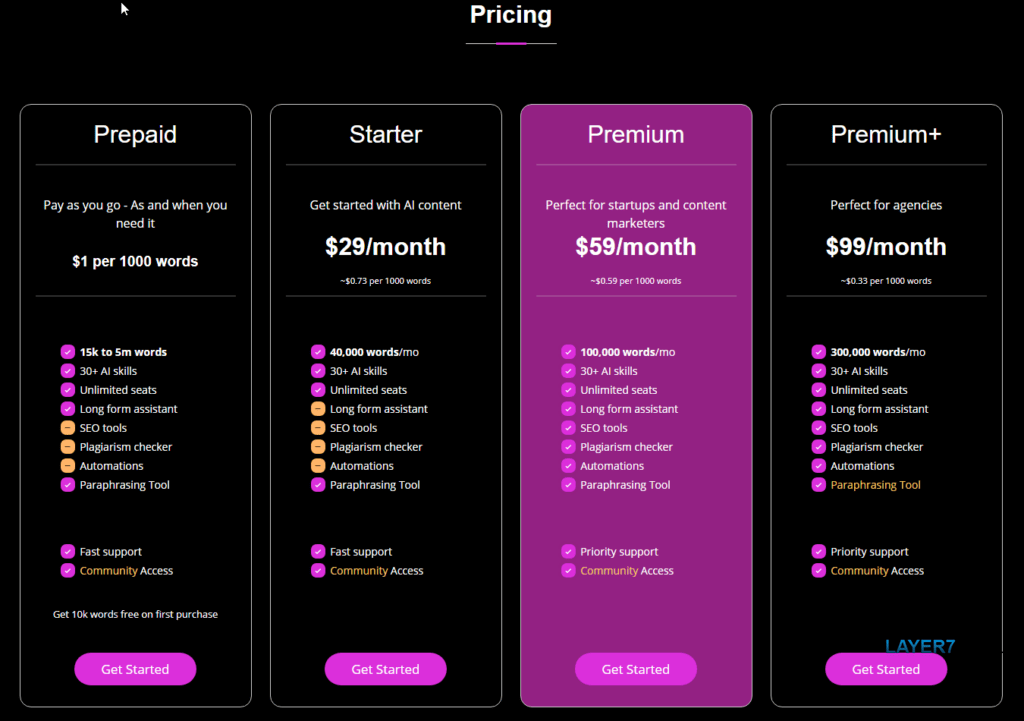 Contentbot has three plans and a pay-as-you-go option.
Starter:- 29$/month
Premium:- 59$/month
Premium+ :- 99$/month
Pay As you Go:- $1 per 1000 words
How to get started with ContentBot AI Writer?
To get started with Contentbot, you need to choose the plan that best suits you, then create an account and select the type of content you want to create.
If you are completely new to AI writing tools, I suggest starting with their starter plan and using the pay-as-you-go option to recharge the credits as needed.
If you have a decent experience with AI writing tools, I recommend starting from the Premium plan and upgrading to Premium Plus if required.
After you successfully log in on the home screen, you have been given four options, namely Write, Rephrase, Check and Automate, on the left of your screen.
I would recommend selecting "Write" first and going into Short form. Then, you will be able to choose from a variety of templates and different short-form content types options to help you get started.
If you need more help, they have a decent amount of help articles.
How to get the most out of the Contentbot AI writer?
Ensure that you have clearly defined goals and objectives for your content before using the tool so that the AI knows what kind of content you are looking for.
Secondly, try to be as specific as possible when inputting information into the tool so that the AI can better understand your needs. For example,
Bad AI Input:- "Write about Product X"
Good AI Input:- "Write a review for my affiliate blog on Product X, which has an inbuilt camera and costs 2000 dollars."
Finally, use the tool's editing, rephrasing, and plagiarism-checking features to ensure that your final content is of the highest quality.
What are my favorite tools inside Contentbot AI writer?
I mostly use the long form. I usually start by creating a new long-form document and mixing and matching Blueprints, SEO, and Templates to produce unique articles.
My favorite Blueprints are "/questions" and "/intro."
My favorite short-form templates are Quora Answers, Blog Topic Ideas, Blog Intro Paragraphs, Blog Outlines, Meta Description, Slogan Generator, and AI Rewriter short-form.
Recent Product Updates
Blog Bundles – Use AI to generate 10 to 50 blog posts in less than 30 minutes. This requires an additional payment depending on the number of articles you wish to generate. (Jan 2023)
You can select length of the Blog Shot between 500 – 9K words. (Jan 2023)
Introduced Intstructbot (Beta), which is built on a similar concept to ChatGPT.
Major improvements in Discover to get detailed SEO insights and data for a topic or keyphrase powered by Semrush. (Dec 2022)
Introduced a new feature called Blog Shot and quality improvement in the Blog Wizard tool. (Nov 2022)
The rephrase tool is also available in the long-form writer.
Recently Introduced Rephrase tool.
Overhauled UI/UX to make it easy to use and intuitive.
Introduced new short-form templates.
Contentbot Alternatives
Some of the Contentbot alternatives are:-
Conclusion
To conclude, Contentbot is a decent AI writing tool for content creation, especially if you're short on time or ideas. You can quickly try Short forms to generate ideas and content. Long-form editor and other functions are easy to find and use, the content output is decent, and it comes with a wide range of other features that can help you create high-quality content quickly and easily.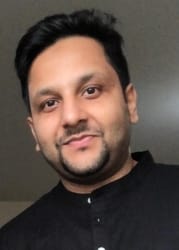 Latest posts by Afroz Ahmad
(see all)