Copy AI Review: Pros, Cons, Unique features, Pricing, Alternatives, etc
Writing content that doesn't sound so stiff and boring is a hard ask. To make things more difficult, AI tools often struggle with writing in a way that feels natural. Meanwhile, companies using AI tools to scale up content production can find themselves between a rock and a hard place. Either the content they create doesn't sound human, or they struggle to meet the demand of hundreds of thousands of daily visitors whilst maintaining quality.
Copy ai differs from other software in two key ways. First, it's trained on a very large dataset of the Internet as well as real human content. This means that the software understands the psychology of writing and how language works in real life. Second, copy ai is designed to be used by people rather than machines. It's designed to be a tool anyone can use to write better, especially copy ai's Freestyle tool, where you can literally ask anything from AI, and it will create human-sounding content for you.
And you guessed right, this blog intro was generated by copy ai, and I did a little tweak to make it relevant.
On top of quality, the tool has been around for more than 2 years with more than $1M in annual revenue, so you can be sure it's stable and reliable. It also has a lot of positive reviews online, meaning that the product is working as intended and people like it.
Are you stoked now? Let's get started.
In this Copy AI review, I will look at how it works, its features, a live demo, pros and cons, pricing, my favorite tools, alternatives, and much more!
Copy AI Features/Specs (Useful Information)
Copy AI Pros and Cons
What is Copy AI?
Copy.ai is an AI-powered content creation platform founded by Chris Lu and Paul Yacoubian in early 2020. It helps business owners, marketers, and copywriters produce compelling copy quickly and accurately without sacrificing the human touch.
Today, Copy.ai is used by renowned companies such as Nestle, Ogilvy, eBay, Zoho, and Penn State University to create blog posts, ads, and emails.
Copy AI recently announced that they have reached $1 million in annual recurring revenue (ARR), a major milestone for an AI writing company.
Who is the Copy AI Writer for?
Copy AI is a powerful AI writing tool for anyone looking to create high-quality, human-sounding content quickly and efficiently. It is especially useful for people in sales, web content marketers, bloggers, and freelance content writers who need to produce engaging and effective copy in a short amount of time.
Copy AI is also great for small businesses or people who want to make sure their content is up-to-date, relevant, and interesting. Its keyword generator module, option to include keywords in pre-built templates, and Blog Wizard all make this possible.
Copy AI 3rd Party Reviews.
I gathered some of the most popular Copy AI reviews from various websites.
Review Websites and Stars
Summary of Review and Link
G2 Reviews
★★★★★(4.5)
4.8 out of 5 stars, reviewed by more than 150 people. Check G2 reviews.
Trust Pilot Reviews
★★★★★(4.3)
4.3 out of 5 stars, reviewed by more than 150 people. Check Trust Pilot reviews.
Capterra Reviews
★★★★★(4.6)
4.6 out of 5 stars, reviewed by more than 30 people. Check Capterra reviews.
Copy AI Review on 3rd party Websites
Copy Ai AI Writer Review – What are the unique features of Copy AI?
Some of the unique features of Copy AI are:-
Freestyle Tool: AI can write about anything with this free-form tool, from sales copy to blog posts, emails, and website copy. Anything you can think of, it can write for you. For better results, it's best to use a structured approach and commands when giving instructions. Find more information in this guide.
Blog Wizard: Blog post wizard has a straightforward, step-by-step process to help you create outlines and talking points for your posts.
Templates: You can generate any type of content template. Just tell the AI what type of template you need, e.g., a landing page for a copywriting course, and it will create a specific template. This is similar to the custom template feature found in some AI writing tools, such as Rytr.
You can try the professional plan for 7 days, no credit card is required.
Supercharged feature: The Supercharged feature allows you to generate a project brief from any website quickly. This option is available in select tools, such as Product descriptions.
Weekly Demos: Not a feature per se, but this is the most helpful part of Copy AI. Every week, the team hosts a live demo to show you how to use the tool and answer any questions you may have.
Copy AI Pricing
Copy AI has only two plans: a Free plan and a Pro plan.
Copy AI recently switched from a metered pricing model to an unlimited model, which makes it perfect for big projects.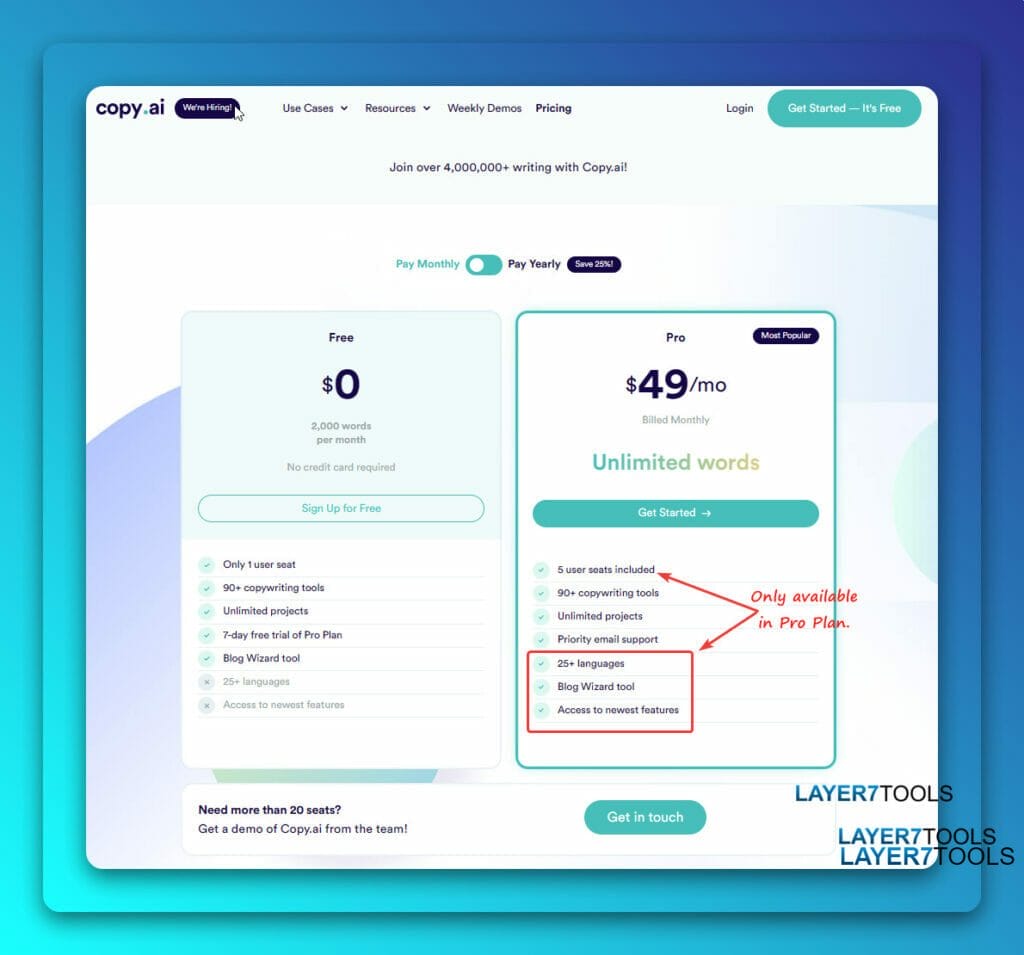 Free Plan
The Free plan only lets you write up to 2000 words per month and doesn't give you access to the Blog Wizard, upcoming new features, or languages.
Pro Plan
The Pro plan, however, is unlimited, comes with 5 seats, and includes all features — an excellent deal for the price. Don't miss out — make sure you grab this offer before it's gone!
Check their pricing on their website.
What are my favorite tools inside Copy AI?
Copy AI is loaded with lots of useful tools. My favorites are:-
The freestyle tool is my favorite. I use it to generate sections of blog posts, generate ideas, identify pain points, write emails, or just about anything.
My second best feature is the Copy AI editor itself. I use it to expand or rewrite anything on the canvas. Although it does not take commands like Jasper or Frase yet, still it creates the most relevant content, and it is a bit easier to write inside the editor than to use specific tools.
My third favorite feature is the Blog Wizard. I use it to come up with ideas or to write the first draught of a blog post or something else faster. It usually needs less than 10% of editing before I hit "publish."
Demo and Sample Content Outputs
Watch this short video to check out all the features and content quality that Copy AI has to offer.
Recent Product Updates
They have introduced workflow tools for highly targeted content creation, such as writing outreach or sales cold emails or LinkedIn InMail from any LinkedIn profile URL. As of today (19th Jan 2023), there are four tools in this category.
They have changed their Pro plan from metered pricing to unlimited with five seats.
Internal Improvements.
Copy AI Alternatives
Some of the Copy AI alternatives are:-
Conclusion
To summarize, I think that Copy ai worth a shot. The pricing is reasonable, and the trial version is frictionless. It provides high-quality articles, but the biggest selling point is that it's so easy to use and produces human-sounding content. The company has also recently hit $1M ARR and has been adding clients at a steady pace.
If you're looking for a tool to help you generate content, Copy ai should be on your list. It's easy to use, has plenty of features, and, most importantly: it works!
I hope this review was helpful and that you find this tool as useful as I do. Thank you so much for reading, and be sure to let me know your thoughts in the comments below!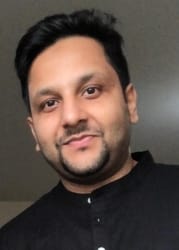 Latest posts by Afroz Ahmad
(see all)