Squirrly SEO Review: Pros, Cons, Unique features, Pricing, Alternatives, etc
There are hundreds of SEO plugins and tools on the market, and none of them do everything you need. This can make things really confusing for site owners – leading to costly blind alleys and dead ends down the line.
Of course, you can always DIY SEO – if you have time, money, and expertise to spare. Or you could use Squirrly SEO – a tool that simplifies everything and intelligently takes care of your SEO problems; at least on WordPress, it really does.
Squirrly SEO WordPress Plugin analyzes your entire site – from posts to pages to images, URLs, titles, and more – in seconds! Plus, it works with any theme or page builder, so there's no coding expertise required. Squirrly SEO doesn't just make SEO easy – it gives you a 'success by numbers' way of managing and improving your site's SEO. It helps you with Keyword Research, Content Optimization, SEO settings, Technical SEO, Site Audits, Rank tracking, and more – all in one place!
Squirrly SEO has already helped over 7,000+ business owners, and webmasters get more website traffic and rankings for their websites. It's been featured in Forbes, Backlinko, Business Insider, TechCrunch, and many other publications as a top SEO tool for WordPress users.
In this SEO by Squirrly WordPress Plugin review, we'll take a look at the features, a live demo, pros and cons, pricing, my favorite tools, alternatives, and much more, so you can decide if it might be worth adding to your site or not.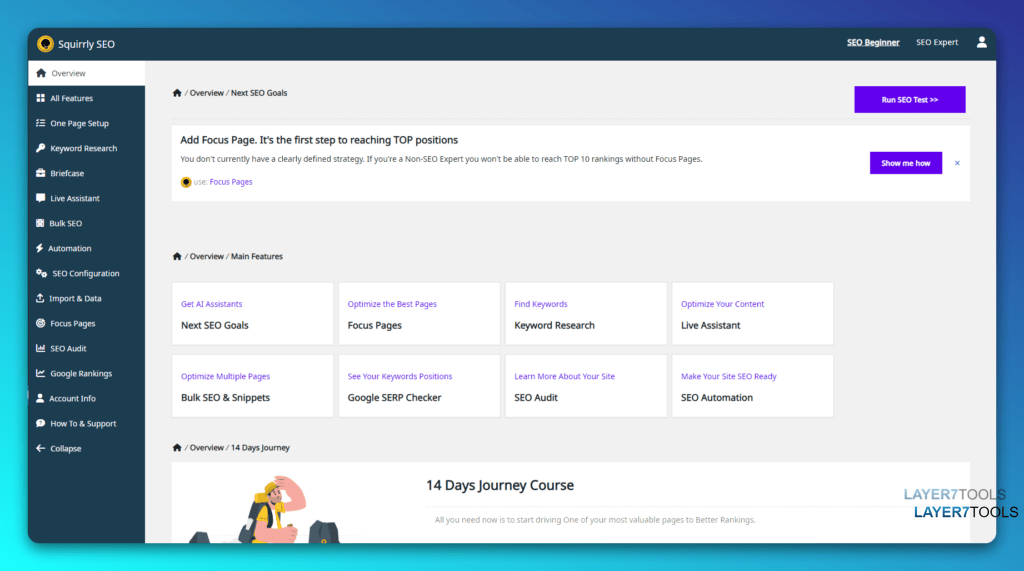 Squirrly SEO Features/Specs (Useful Information)
Squirrly SEO Pros and Cons
What is Squirrly plugin for WordPress?
Squirrly SEO is an all-in-one SEO suite that is like having your very own AI-powered personal SEO consultant right in your WordPress backend. You can use a single tool inside WordPress for keyword research, on-page and off-page SEO optimization, and more.
But that's not all; Squirrly also offers a fail-proof, educational approach to SEO. The SEO Live Assistant gives you real-time SEO feedback on your content as you type in the WP editor. It also gives you personalized to-do lists from an AI SEO consultant to help your rankings. And with the Focus Page feature, you can focus on the pages you want to rank most with a list of page-specific tasks. It's like a game of SEO, and the reward is winning a higher ranking on search engines!
Who is the Squirrly SEO for?
Squirrly SEO is for anyone who wants to improve the search engine optimization (SEO) of their website. It's perfect for business owners, bloggers, website administrators, and anyone else who wants to increase their online visibility and drive more traffic to their website.
It provides detailed guidance and step-by-step instructions on how to improve your website's SEO, making it easy for anyone to understand and implement.
Furthermore, it is perfect for those who want to streamline their SEO efforts and make the process more efficient.
Squirrly SEO 3rd Party Reviews.
I gathered some of the most popular Squirrly SEO reviews from various websites.
Review Websites and Stars
Summary of Review and Link
G2 Reviews
★★★★★(4.7)
4.7 out of 5 stars, reviewed by more than 100 people. Check G2 reviews.
WordPress Reviews
★★★★★(4.6)
4.6 out of 5 stars, reviewed by more than 500 people. Check WordPress reviews.
Capterra Reviews
★★★★★(4.7)
4.7 out of 5 stars, reviewed by more than 100 people. Check Capterra reviews.
Appsumo Reviews
★★★★★(4.9)
4.9 out of 5 stars, reviewed by more than 300 people. Check Appsumo Reviews.
Squirrly SEO Review on 3rd party Websites
SEO by Squirrly Review – What are the unique features of Squirrly SEO?
Some of the unique features of Squirrly SEO are:-
Keyword Research: You can do Keyword Research right inside the Squirrly plugin.
14-Day step-by-step Journey Course, which gives you a nice primer on common SEO tasks and plugin features.
Focusing on SEO for key pages is an effective way to ensure that your high-value web pages reach the highest rank in Google searches. Focus Pages help you put together a powerful SEO strategy to get the maximum benefit from your site.
Streamline your SEO process with Bulk SEO & snippets in a few minutes. I love how the All Snippets feature allows me to edit and optimize my post snippets quickly. It's a huge time saver, and I can be sure all of my snippets are performing optimally.
You can import SEO data from popular plugins like RankMath and Yoast and plug it into Squirrly for easy migration. You can also back up and restore Squirrly SEO settings at any time.
Squirrly SEO Pricing
Squirrly SEO offers four different plans: free, pro, business, and agency.
Free Plan
The free version of the Squirrly SEO Plugin can be downloaded from the WordPress directory, and your email address can be used to connect to Squirrly.
Pro Plan
The Pro plan is a good place to start if you have around 7 websites, have light usage, and do not need deep keyword research, analytics, or other advanced features.
Business Plan
The business plan has all the features, but it is also limited to 7 websites only.
This is the best plan, from my point of view, if you have limited high-value websites.
Agency Plan
The agency plan has more websites (50), more Focus pages, Keyword Research, etc., but it has fewer features compared to the Business plan.
What are my favorite tools inside Squirrly SEO?
Squirrly SEO is loaded with lots of useful tools. My favorites are:-
Keyword Research: For quick insights, I use Squirrly's Keyword Research tool. It's not a comprehensive tool, so I supplement it with other options, but it always gives me a good starting point.
SEO Live Assistant provides real-time SEO feedback on my content as I type in the WordPress editor. It also provides personalized to-do checklists, suggests areas where I lack on-page SEO, and advises me not to stuff my keywords, etc.
With the Bulk SEO feature, I'm able to easily set the best METAs, Open Graph, Twitter Card, JSON-LD Structured Data, and Visibility of all my posts, pages, products, custom posts, categories, tags, and even author profiles from a single place.
I would highly recommend checking out the Squirrly SEO Knowledge Page if you are stuck somewhere or want to explore everything this plugin has to offer.
Demo and Features Overview
Watch this short video to check out the dashboard and some of the features that Squirrly has to offer.
Recent Product Updates
Added Indexnow and Google Indexing API features – (Feb 2023)
A complete overhaul of UI and UX. (Dec 2022)
Internal Improvements.
Squirrly SEO Alternatives
Some of the Squirrly SEO alternatives are:-
Yoast SEO Plugin
Rank Math
Conclusion
Squirrly SEO is a great all-in-one SEO plugin for WordPress. It provides plenty of helpful tools, including keyword research, content optimization, blogging assistance, etc. It also makes it quick and easy to optimize your pages for search engines by guiding you through each step with a series of simple-to-follow instructions.
However, some users have found that the optimization suggestions provided by the plugin didn't always result in an improvement in their search engine rankings. Similarly, the keyword research tool isn't as effective as some of the other tools available on the market. The support could be more consistent, and the content within the plugin can become out of date if not updated regularly. Additionally, setting up the GA integration feature can be tricky, and the plugin doesn't provide much in the way of schema options.
Overall, Squirrly SEO is a solid plugin that makes optimizing your website for search engines easy. However, it's important for users to keep in mind that it won't fix all of your SEO issues overnight and might require a bit of extra effort and resources on your end to get the most out of it.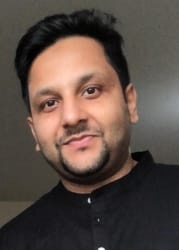 Latest posts by Afroz Ahmad
(see all)